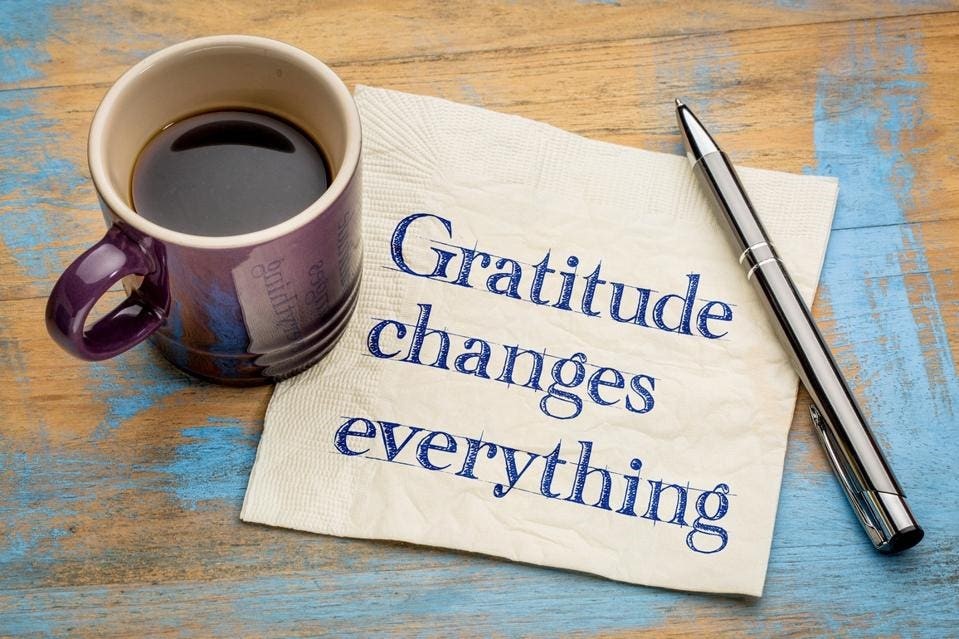 Our everyday lives are often sources of difficult, stressful challenges. It is easy to understand why those challenges, and the uncertainty and dangers we hear about each day generate feelings like fear, anxiety, frustration, isolation and sadness. And these are precisely the reasons why starting a daily practice of gratitude can make a big difference in our quality of life, and the peacefulness with which we meet each day.
Gratitude Is Not The Same As Thankfulness
Gratitude is not the same as thankfulness. Gratitude does not come as a response to something you have been given or earned. That is "being thankful." Gratitude is a much deeper way of living that comes from an awareness of being in the moment. For example, think of the millions of moments and people and circumstances that have come together for you to simply be here, right now, alive in this moment. Stop and consider this for a minute. Look back at this last year and recall a memorable moment. If just one event was slightly different, or one person made a different decision, or one storm had a different trajectory, how would that moment have changed?
And, of course, you can go back even further. What if one ancestor made a different choice, or was received by their new country in a different way? Or what if an illness or injury occurred?
It really is quite an amazing miracle that we are who we are, where we are, and doing what we are. Gratitude is the deep feeling we get when we acknowledge that things are pretty amazing, and in response, we choose to meet our life with an open-heartedness and presence that comes from that recognition. A formal gratitude practice helps us cultivate those qualities and pay attention to the many sources of joy and peacefulness that are all around us, even when the day is chaotic.
The practice steps below are simple and can be done individually or as a family:
Choose a time each day to sit quietly and write down 3 things for which you are grateful. Whatever you notice that day is fine. There is only one rule-you cannot repeat anything. If you notice the beautiful colors of a summer flower, or the delicious crunch of your favorite apple today, you can not use them again. Keep looking. How many days/months can you keep this up? If you are using this practice with your family, create a Family Gratitude Journal and leave it on the table. It may become a treasured keepsake over time!
Pay close attention to your body sensations while you are writing. What are you noticing as you bring your moment to mind? Warmth, lightness, tingling, openness, softening etc.
After you have been practicing gratitude for a few weeks, what do you notice about the way you are meeting your life? Has it affected your choices? Thoughts? How might gratitude change the world?