Invest in your leadership. Invest in yourself.
Our mindful leadership trainings create focused, productive and engaged executives and employees.
Why Us?
Our trainings are trusted and used by the world's leading businesses and organizations.
Founded by former General Mills VP Janice Marturano, the Institute for Mindful Leadership has over a decade of experience working with companies to create a highly engaged workforce that will produce value and a competitive edge for your organization.
Clients
Employee focused methodology for achieving better organizational outcomes.
Our trainings can be customized to meet individual and organizational objectives.
Let us help you:
• Reduce organizational risk
• Increase employee            
  engagement & satisfaction
• Create an environment of
  innovation
Retreats & Workshops
No other organization has as exceptionally qualified mindful leadership instructors. 
Our extensively trained instructors are themselves experienced senior corporate leaders, organizational consultants and trained professionals who understand your unique corporate challenges.
Instructors
Experience Our Trainings
Contact us to set up an on-site workshop or a mindful leadership training for your organization.
More Information
In addition to organization-specific training, we offer public online and in-person workshops and retreats.
Current Program Schedule
"At the World Economic Forum, I saw in person how Janice Marturano's mindful leadership training could make a real difference in the lives of corporate leaders from around the globe."
Arianna Huffington
President and Editor-in-Chief / Huffington Post
With leaders everywhere searching for ways to be mindful, Janice Marturano is the definitive guide to becoming a mindful leader. If you follow her practical advice and easy-to-adopt exercises, this material will change your life.
Bill George
Harvard Business School
"I describe my first mindfulness retreat as life changing. [Marturano's] clarity, encouragement, and reminders to be gentle on ourselves as we learn to be mindful leaders are simply amazing."
Gale Pollack
Major General (ret.) / US Army
More Testimonials
Sample of our Mindful Leadership Training Results
(from a multi-year study at a Fortune 200 Company)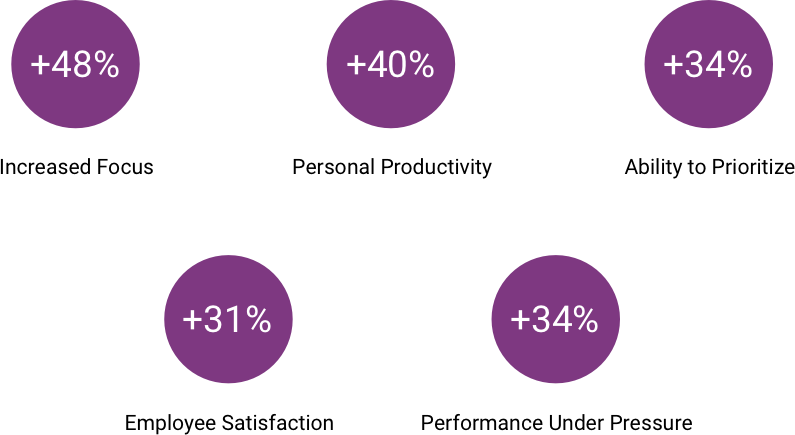 See Our Research
Some of our Partners

More Clients
by Janice Marturano, Founder and Executive Director of the Institute for Mindful Leadership
Winner of 2014 Nautilus Book Award
Finding the Space to Lead has a global reach and has been translated into many languages.
In this plainspoken, accessible guide, Janice Marturano, a senior executive with decades of experience in Fortune 500 corporations, explains how to integrate the scientifically proven practice of mindfulness-meditation and self-awareness with effective techniques of management and mentorship.
"This book will change your life." – Bill George, former Medtronic CEO
"Finding the Space to Lead gives us concrete strategies, from a high powered executive of a major American corporation, to increase our focus and creativity, as well as how to lead with compassion. I highly recommend it." – Tim Ryan, Congressman (Ohio)
"You will find both invaluable wisdom and practical advice in these pages." – Arianna Huffington, Editor in Chief of The Huffington Post
Learn More